What is CRM? CRM stands for customer relationship management. It's technology that analyzes and manages customer interactions and data throughout the entire customer lifecycle, thereby building better customer experiences, better customer service, and better business relationships while increasing revenue.
Think of CRM as a modern software akin to a traditional filing system in which the names of customers and prospects as well as all of their relevant information (phone number, email, deal stage, notes, etc.) are stored.
CRM systems help to improve customer relationships and connections by offering a 360-degree view of the customer with easy access to data like contact info, customer service requests, marketing campaigns, and sales history and opportunities, thereby streamlining businesses processes. 
CRM software has become nearly ubiquitous in the business world for growing larger-scale organizations – there's a few reasons for this. Let's look at how a customer relationship management system addresses and solves pain points across the entire organization for modern, growing companies. 
What is CRM: 3 reasons CRM is important to your business 
Organization and scale
The backbone to any good company is rock solid customer service –– from first touch as a prospect through the lifecycle of that customer. 
For smaller companies, it may be plausible to use Excel or another system to denote each and every prospect, the notes from the calls, and then the move to a customer. However, over time, detailed updating of spreadsheets and their maintenance can become incredibly time consuming, taking your sales folks and other team members away from their revenue-generating responsibilities. 
This is where customer relationship management software comes in handy! It works with other online tools to pull in relevant information automatically, helping to alleviate some of the workload from employees. For instance, CRMs can pull in information around first-touch attribution (from which channel did a prospect first hear about you). 
A good customer relationship management software solution makes the updating of customer information incredibly easy and visible company-wide. This is helpful should a prospect or customer need to be handed off to another team member. There's no need to transfer Excel docs or grab a meeting to discuss the history of the customer; instead, it's all right there, noted and tracked in the CRM. 
2. Data and tracking 
Beyond easy transfer of information and manual tracking of inputted information, a CRM software also tracks much more than a salesperson will be able to do.
For instance, a CRM also tracks:
Customer activity on the website 

Customer engagement with company emails 

Email activity with sales people or others at the company 

Which forms on a website customers have filled out, how often, when, and from which attribution channels 
This kind of tracking goes above and beyond traditional customer relationship management, which tracked only customer/prospect contact and deal stage information (or the information a salesperson could enter into a spreadsheet on their own). 
With this information, you can now begin to run analysis on generalized data. For instance, you can begin to answer questions like:
Do prospects convert better into customers when they fill out a form on the homepage versus a sales page?

How long is the average deal lifecycle for someone who signs up for our blog newsletter? 

How many pages on the site do typical prospects look through before filling out a form? 

Which pages on the site covert the most prospects to customers? Is this different based on the first-touch attribution channel?
All of this information better arms a marketing team to put more money where the shortest lead cycles are with the highest prospect to customer ratio. 
In addition, this information helps sales folks better understand the prospects journey, altering their pitch and conversation based on what is most relevant to that exact customer, as well as what the aggregate data says about the sales cycle and journey this prospect is on. 
3. Increased personalization 
Tailoring a message or content specifically to the actions of a prospect or customer is now table stakes in organizations around the world –– and CRM capabilities helped make that happen. 
Your entire team can pull both aggregate data and information on customer journeys, as well as dig down into the specifics of each customer – so your marketing, sales, and customer service teams can tailor specific messages, conversations, and content to those customers or prospects. 
This helps to better engage with those customers and prospects, build rapport, earn trust, and ultimately increase their affinity for the company. 
All hail technology: CRM benefits 
The benefits of CRM are many: Modern CRM allows businesses and organizations to experience higher levels of customer engagement, loyalty, and revenue while lowering costs.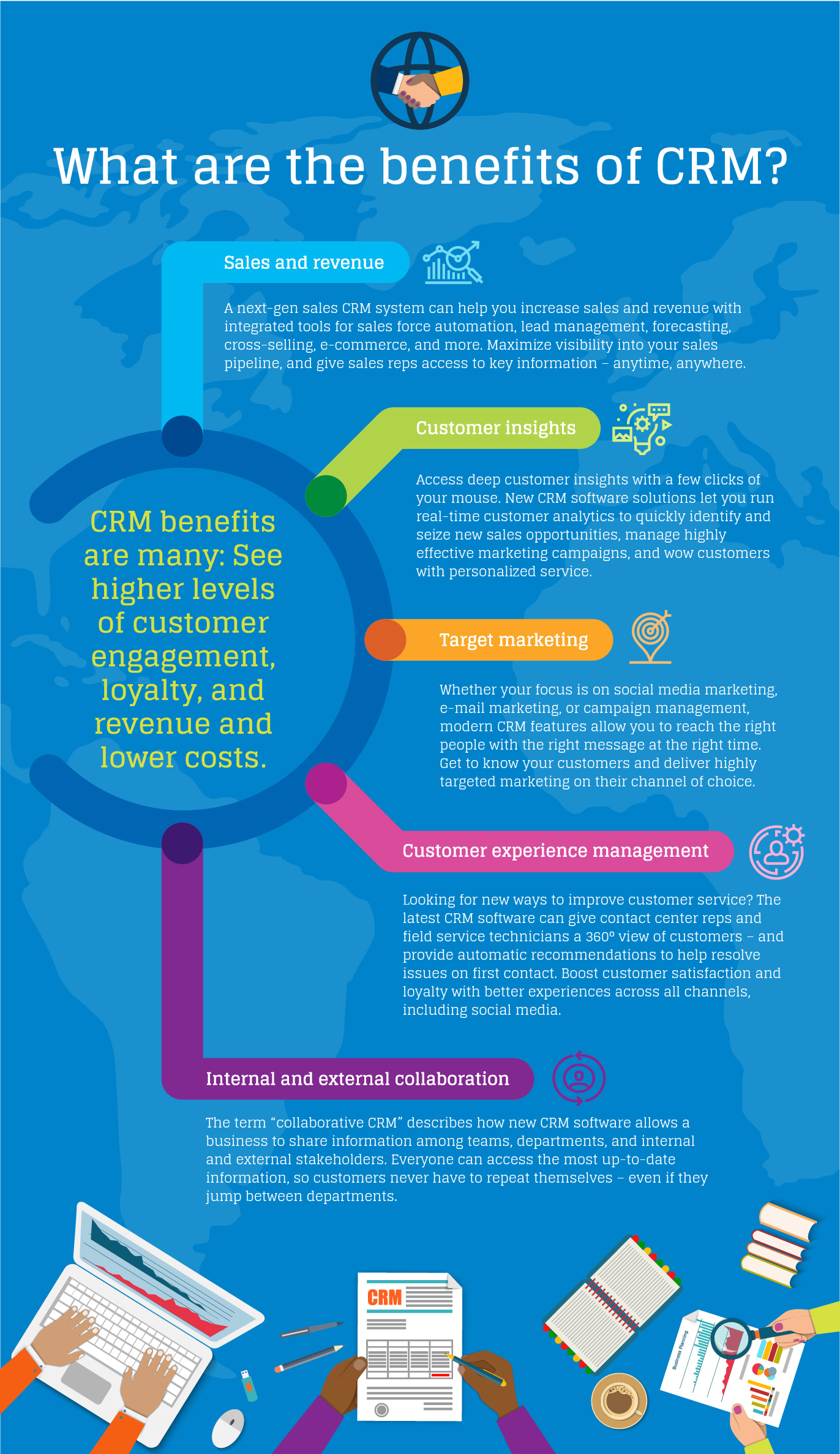 Types of CRM
Now that you know the main benefits and uses of a CRM system, it's important to know the types that are available. 
There are three traditional types of CRM software: 
Operational CRM

uses sales and marketing automation to give you a complete view of each customer's journey.

Analytical CRM

analyzes your customer data and identifies patterns to help you make better business decisions.

Collaborative CRM

organizes and shares customer information with your internal and external stakeholders.
Keep in mind, many CRM software solutions combine all three of these types –– making for a fourth type that you might call an integrated CRM.
Modern customer engagement solutions
Modern CRM solutions offer much more than their traditional counterparts. When your customer relationship management is in the cloud, you can harness more functionality, in-memory technology, a 360-degree view of the customer, and data and analytical insights to create contextual, personalized, omnichannel customer engagement in real time – across any channel or line of business.
CRM for Sales: Gain the customer insights you need to close deals anytime, anywhere. At the heart of the sales cloud CRM is the customer and their history with your company, across both the front-office and the back-office.
CRM for Marketing: Provide contextual, individualized customer experiences across every channel with every interaction. Gain deeper insights with machine learning to identify the best audiences and experiences for individual customers, while making each customer feel like your only customer.
CRM for Commerce: Give customers a personalized digital shopping experience with solutions for mobile, social, and e-commerce.
CRM for Service: Your customer service reps need customer visibility and real-time problem-solving tools to win loyalty and cut costs – give it to them.
Check in on your customers today.
They'll appreciate it tomorrow.
Learn more HERE.