I recently read an article on eMarketer that took me back. About four years ago, I led the marketing department at a cybersecurity startup, and I was completely fixated on data protection and cyberattacks.
As the marketing leader, I felt extra pressure on my shoulders to ensure our company's and client's data was safe and secure. Imagine the horrible PR nightmare it would be if a cybersecurity company was hacked!
Hack attack: Data breaches and cyberattacks target precious and personal data
We've all seen the headlines of the data breaches and cyberattacks over the years…Reddit, Under Armour, Timehop, MyHeritage, Yahoo, Equifax, Target – the list goes on and on and on.
As breaches and attacks continue to happen, placing our personal data at risk, marketers are worrying about and struggling with these threats. As the top marketing officer, CMOs are focusing on protecting consumer data as one of their key priorities.
In a May 2018 survey of 1,000 senior marketers worldwide, about three in ten respondents said a data breach or misuse of consumer data worries them the most: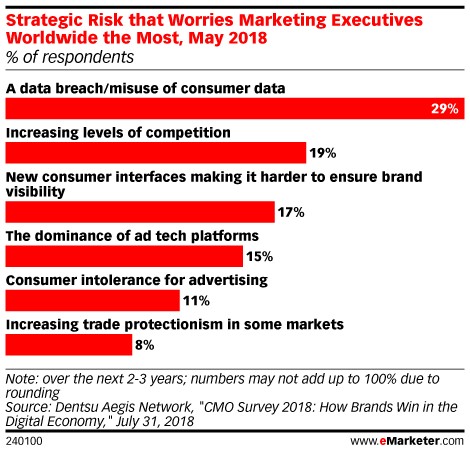 Real talk: Why CMOs are focusing on protecting customer data
CMOs must keep data protection top of mind because marketing is a department that is constantly capturing and storing data, and most organizations look to the CMO as the person responsible for crafting and molding the customer experience.
When a customer's data is compromised, that definitely does not lead to a positive customer experience, and it can destroy the reputation of an organization nearly overnight.
To add to CMO stress levels, legislation like the EU's General Protection Data Regulation (GDPR), which began in May of 2018, and the California Consumer Privacy Act, which will take effect in 2020, only adds fuel to the fire of uncertainty. Not only do CMOs have to worry about providing exceptional customer experiences, but they must also pay close attention to the laws and legislation in place, or else their organizations could end up facing massive fines.
The massive data breaches that we've seen in the past can certainly end the career of a CMO. So now – more than ever – the proper strategies, processes, and technologies to protect data and the privacy concerns of customers is crucial.
Learn how to protect consumer data while creating strong customer relationships. Download the free guide today.